With the recent UK brick shortages, we asked the factory to produce 6 million bricks in imperial and metric sizes, available on short lead times. We're also stocking large quantities here in the UK. The new bricks have already proved popular with merchants, developers, and self-build customers.
Regency Red Multi and Regency Orange Multi are soft-textured handmade bricks with natural creasing on the faces. Regency Orange Multi comprises primarily of orange tones with a 5-20% mix of red hues, whereas Regency Red Multi is made up of mostly red bricks with a small presence of oranges. The colour variation is derived from delicate fluctuations in temperature during the firing process in coal kilns, which lends the bricks their attractive character.
Regency Chesham is another brick in the range created as a by-product of Regency Red and Orange. Displaying distinctive shade variations, some pale faces and characterful overburns, they are also available in imperial and metric sizes, but with limited availability.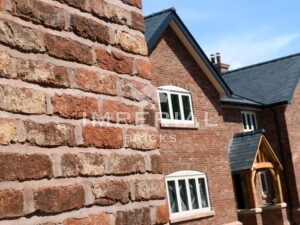 We also offer a 'tumbled' version which is a facsimile of reclaimed bricks, available on a processed-to-order basis. This means a slightly longer lead time, but they're well worth the wait! Our new range is ideal for new build and renovation projects covering all areas of England.
All bricks in the range are manufactured to BS EN 771-1 standards, fully tested and F2 rated for frost resistance.
To see the latest range, you can request samples online, or visit your nearest stocking builders merchant.
Every time we send developers to see these bricks in use/build, these are the bricks they end up selecting/specifying. I would strongly recommend considering these bricks for bespoke rural properties.

Jason Hughes, Imperial Bricks Managing Director