With the close of 2020, we were making plans for considerable growth of our product range, marketing efforts and expanding our business focus, so as Imperial Handmade Bricks was beginning to enter a new era, we needed to update our branding and online presence along with it.
Firstly, the word 'Handmade' has been removed from our name, which no longer reflected our expanding product range. We now stock extruded and pressed bricks as well as traditional handmade, so we took the decision to omit it.
Although visually traditional, our previous logo had become outdated and was not aligned with the audience we serve anymore. So, with the help of branding experts, we decided on contemporary style branding which brings us forward into the modern world whilst still retaining our historic roots. Our new logo is clearer, more defined and gives a nod to our heritage with the retention of the crown icon.

The colour palette is no longer monochrome, and notable colours have been introduced to segregate our customer audiences. We're focused on tailoring our marketing to each industry sector – architects, developers, self-builders, merchants and contractors – to address their priorities and requirements and deliver the information they want in a concise manner. Each industry has their own dedicated accent colour, giving them a sense of independence under the brand umbrella.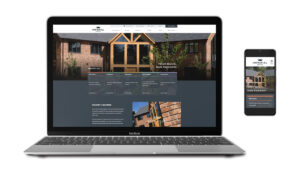 Our newly launched website has been custom-built to prioritise user experience, with clear navigation and enhanced visuals. With the addition of a new resources section, visitors can easily access useful tools and information, while an improved project showcase area and defined service offerings ensure a comprehensive understanding of what we can provide.
Dedicated areas for each industry, accessed via the homepage and top navigation, ensure a tailored browsing experience allowing visitors to not only browse our products, but also discover services and information uniquely suited to their needs.
As the business grows, so will our website, which is geared to adapt to meet the evolving demands of you, our customers.
Our new branding and website mark an exciting new chapter of growth and opportunity for Imperial Bricks. Enhancing customer experience and tailoring our offering for industry sectors were at the forefront of the project, while also ensuring scope for planned expansion of our product ranges.

We are confident that the new website will prove to be a valuable asset and resource for our online visitors and customers, which provides a thorough understanding of our products and services, and greatly assists in their purchasing journey.

Jason Hughes, Imperial Bricks Managing Director