In recent years, the interest and demand in the use of tumbled bricks for new builds, and especially restoration and renovation projects, has increased tenfold. Following last year's move to a new premises and the introduction of new facilities dedicated to the large-scale production of tumbled bricks, we can now offer them processed-to-order across most of our brick collections.
Tumbled bricks are the ideal alternative to sourcing genuine reclaimed bricks. In appearance, they are indistinguishable from genuine reclaims, but carry the added benefits of being reliably and sustainably supplied.
New bricks from our established ranges are weathered and aged before being put through a unique tumbling process that recreates the 'tumbling' of bricks on demolition sites. This process creates the rustic, characterful bricks which are identical to reclaims.
Reclaimed bricks can be difficult to source in large quantities and often include a significant wastage percentage due to inconsistent quality and damage during transport, which increases overall cost. For this reason, it is rare to see reclaims used for large properties/developments.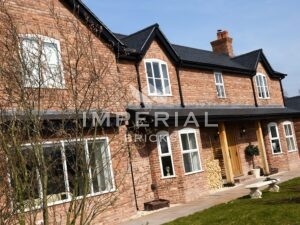 With the expansion of availability across most of our brick collections; architects, developers, self-builders, contractors and merchants now have a wider choice available where the use of reclaimed bricks have been called for.
Our tumbled bricks are fully tested, frost resistant and come with all the assurances of new bricks, while providing the traditional, established look many housebuilders desire.
Several standard tumbled brick options are available to sample, and additional tumbled options can be discussed by requesting a brick match or speaking to our sales team.
Tumbled bricks are the closest match to genuine reclaims on the market.

We've presented bricks to architects, developers, and merchant customers who've all been convinced they're genuine reclaims!

Jason Hughes, Imperial Bricks Managing Director